Platings > Pure Gold plating
Pure Gold plating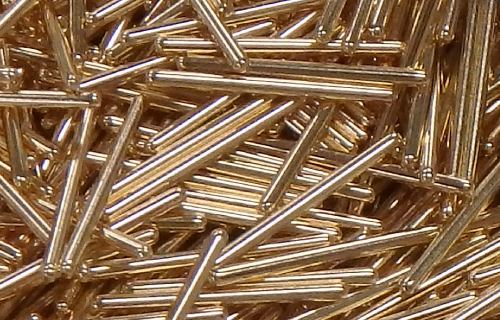 This plating is used to the parts which need an advantages of the gold properties. The gold purity of this gold plating is 99.99% or more. This plating shows the natural properties, which means soft, high electrical conductivity, high thermal conductivity and high corrosion resistance. This plating has lemon yellow color, and has about 60 HV hardness.
This plating is strong in heating. It is highly reliable at soldering and bonding because surface is fit to the solder and bonding wire. Because of high purity, it is easy to bond for gold wire and aluminum wire by the heat, pressure, and ultrasonic. Pure Gold plating gives you a good wire bonding performance.
This can be used the portion, which is near to the heat source or needs the durability such as various IC parts and an artificial satellite. On the other hand, as it is soft, it is not suitable for such as a pin connector and probe, which is required the wear resistance. We recommend the hard plating such as the hard gold plating for this case.
Functional property
Low Contact Resistant
Sealing
Good Bonding & Soldering
Availability details
mass production
no
process type

※

R,M
under plating
Ni
prototype
no
experimental trial
yes
regular chemical stock
no
※

B:barrel

R:rack

M:mesh basket

H:reel to reel