Platings > Tin Reflow Plating
Tin Reflow Plating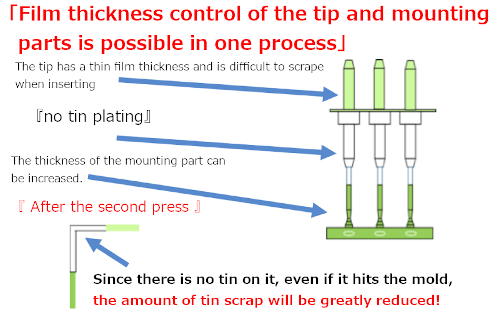 By tin plating (reel-to-reel), tin scraps are reduced during insertion and the secondary press!
Tin plating is often used in electronic parts that require solderability. However, whisker-like crystals easily appear on the surface. In order to suppress the generation of whiskers, it is now possible to perform reflow processing after the plating process. In recent years, the same terminal is often made for the two purposes of press-fitting part (press-fit shape) and soldering part.
In our company, the press-fitting part has a thin tin plating thickness (0.5 μm etc.) and the soldering part has tin plating. Tin reflow plating can cope with differences in plating thickness (2 μm, etc.) and prevents the adhesion of tin debris to the mold after bending by exposing the underlying nickel plating to the parts after bending.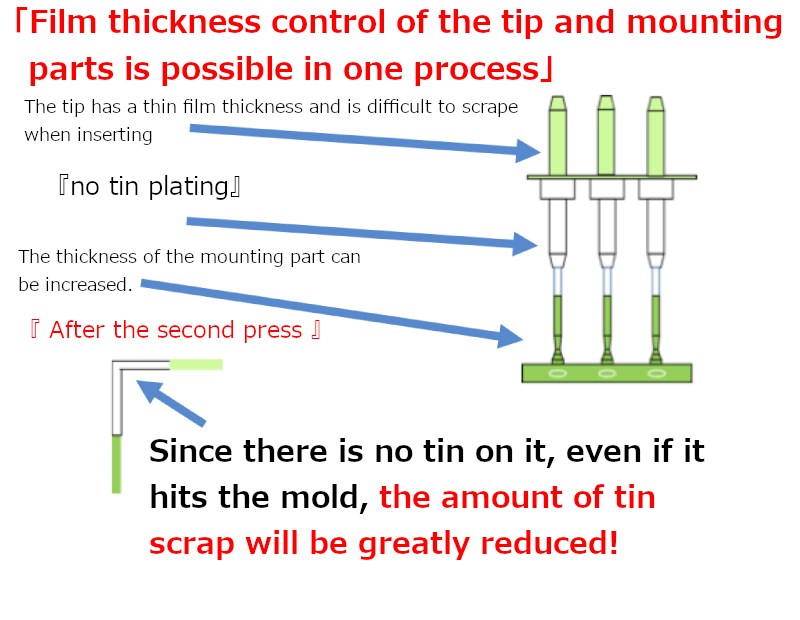 Functional property
Good Bonding & Soldering
Anti-whisker Generation
Industry employed
Automotive (IGBT)
Electronics
Busbar
Availability details
mass production
yes
process type

※

H
under plating
Nickel
prototype
yes
experimental trial
yes
regular chemical stock
yes
※

B:barrel

R:rack

M:mesh basket

H:reel to reel