Platings > Discoloration resistant silver plating (MC-11NT-A, B, C)
Discoloration resistant silver plating (MC-11NT-A, B, C)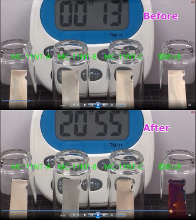 The silver-plated film has good conductivity and is used in various markets such as electronic components, but since sulfurization easily causes black discoloration, the current situation is that discoloration is prevented by post-treatment to delay blackening. ..
Mitsuya has developed the MC-11NT series of discoloration-resistant silver-plated films that can withstand sulfurization-resistant immersion tests (potassium sulfide 2% solution).
The conventional sulfur-resistant immersion test of silver-plated film discolors in 2 minutes, but the developed MC-11NT does not discolor (there is a track record of up to 15 minutes).
Three types, A, B, and C, are available. Please choose according to your needs.


Whether it can be processed

We are conducting research and development at the Technology Center.
Prototyping is possible at the beaker level, but it is necessary to order chemicals.
We look forward to hearing from you.
Functional property
Low Contact Resistant
Good Bonding & Soldering
Availability details
mass production
no
process type

※

under plating
prototype
no
experimental trial
yes
regular chemical stock
no
※

B:barrel

R:rack

M:mesh basket

H:reel to reel