Direct Tin plating on SUS without Ni under plating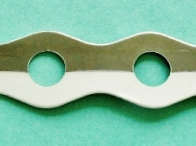 We can provide the direct tin plating on SUS. You can avoid a nickel allergy because there is no nickel as the under layer and also can get high corrosion resistance and high heat resistance and good productivity.
It can keep an excellent solderability in reflow soldering at the selective tin plated area.
Functional property
Anti Nickel-Allergic
Good bonding & soldering
Low contact resistance
Industry employed
Electronics components (Sensors)
Availability details
factory
Tokyo
Gotanda
Tokyo
Hachioji
Yamagata
Yonezawa
Yamanashi
Kofu
mass production
-
-
-
-
process type
-
-
R
-
under plating
-
-
-
-
prototype
-
-
-
-
experimental trial
-
-
yes
-
regular
chemical stock
-
-
yes
-
process type: B(barrel) R(rack) M(mesh basket) H(reel to reel)