High-technology Three Partial plating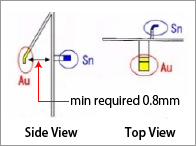 Since Ni-Au-Sn can process at one hoop line, it can realize a short time delivery.
Plating on the convex parts is possible when the height is 0.8 mm or more. (See a figure.)
It is possible to plate on the demanded portion by making the simple jigs.
Functional property
High Conductive
Low Contact Resistance
Good Bonding & Soldering
Industry employed
Electronics components (High precision connectors)
Availability details
factory
Tokyo
Gotanda
Tokyo
Hachioji
Yamagata
Yonezawa
Yamanashi
Kofu
mass production
-
-
yes
-
process type
-
-
H
-
under plating
-
-
Ni
-
prototype
-
-
-
-
experimental trial
-
-
yes
-
regular
chemical stock
-
-
yes
-
process type: B(barrel) R(rack) M(mesh basket) H(reel to reel)