Porous Nickel plating
Porous plating for Good Adhesion Resin Painting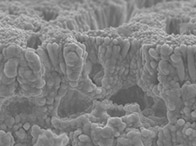 Mitsuya has developed a porous nickel plating with the applicability to various fields which need improvement of functions such as the strong adhesion and the electrode properties.
This plating is that a nickel is deposited with porous form.
This is a special nickel plating deposit having pores of about 2 μm to 30 μm.
As a result, voids are formed not only on the coating surface but also inside the coating, so the surface area is remarkably increased, compared with the ordinary plating deposit.
Currently, we are developing various applications. Applications of this plating are as follows.

Under layer for painting.
Surface modification.
Substrate for packaging materials.
Functional property
Low Contact Resistance
Sealing
Good Bonding & Soldering
Availability details
factory
Tokyo
Gotanda
Tokyo
Hachioji
Yamagata
Yonezawa
Yamanashi
Kofu
mass production
-
-
-
-
process type
R
-
-
-
under plating
Cu,Ni,Ni-P
-
-
-
prototype
-
-
-
-
experimental trial
yes
-
-
-
regular
chemical stock
-
-
-
-
process type: B(barrel) R(rack) M(mesh basket) H(reel to reel)