High reflective Gold plating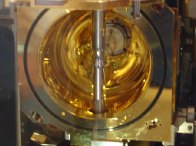 As a bright metal, it has been known that silver plating have a high reflectance in a wide wavelength range.
However, silver plating is easy to discolor in the air. Therefore, Mitsuya developed a High reflective Gold plating to solve this problem. Astronaut Mamoru Mohri who is also an scientist was performed to the experiment to make the alloy in space, by using the "image furnace" installed at the space shuttle Endeavour of NASA.
They adopted Mitsuya's gold plating as a reflective mirror for the image furnace. The reflective gold mirror was the most important part to determinate the performance of the image furnace.
The reflectance is improved by about 4-6%, comparing to our bright gold-plating. The high reflective gold plating of Mitsuya is the most advanced technology on the high performance mirror for an image furnace.
High reflective Gold plating has been used in the other products widely. For example, this plating is used for the following products.
Wafer marker for semiconductor production
Pulse laser welder
Laser trimming machine
Solution result by this plating
Functional property
High reflection
Good bonding & soldering
Low contact resistance
Industry employed
Availability details
factory
Tokyo
Gotanda
Tokyo
Hachioji
Yamagata
Yonezawa
Yamanashi
Kofu
mass production
yes
yes
-
-
process type
R
R
-
-
under plating
Ni
Ni,Ni-P,
Pd-Ni
-
-
prototype
yes
yes
-
-
experimental trial
yes
yes
-
-
regular
chemical stock
yes
yes
-
-
process type: B(barrel) R(rack) M(mesh basket) H(reel to reel)