Electroless Gold plating (immersing type for thin deposit)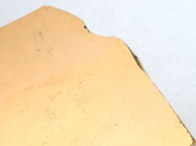 This plating is used when we need to form a thin gold plating on the nickel surface. Plating thickness is less than 0.05μm. This plating can be applied to deposit on the independent circuit pattern, because of the electroless plating type.
Features of electroless gold plating (thin) of Mitsuya is as follows.
Good solder wettability and good joint strength
Low temperature forming (80 ℃)
Less damage to the under layer nickel
Fine and uniform deposit
Solution result by this plating
Functional property
Low contact resistance
Good bonding & soldering
High conductive
Industry employed
Electronics components (Sensors)
Semi-conductor
Availability details
factory
Tokyo
Gotanda
Tokyo
Hachioji
Yamagata
Yonezawa
Yamanashi
Kofu
mass production
yes
-
-
-
process type
R,M
-
-
-
under plating
Ni-p
-
-
-
prototype
yes
-
-
-
experimental trial
yes
-
-
-
regular
chemical stock
yes
-
-
-
process type: B(barrel) R(rack) M(mesh basket) H(reel to reel)