Bright Gold plating (containing Cobalt)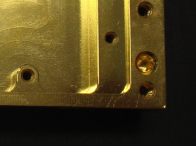 Bright gold plating is the most suitable material for an electric contact. This deposit is high purity gold material and has a good corrosion-resistant property and a good acid-resistant property.
The purity of gold is 99.0 to 99.7 wt%, including Cobalt element. The hardness is 180 to 210 Hk. We can provide a sealing treatment after plating according to the customer requirement, too.
Solution result by this plating
Solution result by this plating
Solution result by this plating
Functional property
Low contact resistance
High conductive
Good bonding & soldering
Industry employed
Electronics components (Sensors)
Electronics components (High precision connectors)
Electronics components (Switches)
Medical equipments
Observation equipment for astronomy
Availability details
factory
Tokyo
Gotanda
Tokyo
Hachioji
Yamagata
Yonezawa
Yamanashi
Kofu
mass production
yes
yes
yes
yes
process type
B,R,M
B,R,M
B,R,M,H
B,R,M,H
under plating
Ni
Ni,Pd-Ni,Ni-P
Ni,Ni-P,Ag
Ni
prototype
yes
yes
yes
yes
experimental trial
yes
yes
yes
yes
regular
chemical stock
yes
yes
yes
yes
process type: B(barrel) R(rack) M(mesh basket) H(reel to reel)