Porous Copper plating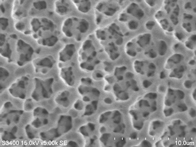 We provide copper plating which surface has micro-size hole. This plating is used as electrodes and under layer for painting.
The surface of our porous plating is several micro meter-size pore and 40 million/cm2 porosity.
Applications of this plating are as follows.

Under layer for painting.
Surface modification.
Substrate for packaging materials.
Functional property
Porous plating for Good Adhesion Resin Painting
Availability details
Note: Presently, experimental trial at our technical center only.
factory
Tokyo
Gotanda
Tokyo
Hachioji
Yamagata
Yonezawa
Yamanashi
Kofu
mass production
-
-
-
-
process type
-
-
-
-
under plating
-
-
-
-
prototype
-
-
-
-
experimental trial
-
-
-
-
regular
chemical stock
-
-
-
-
process type: B(barrel) R(rack) M(mesh basket) H(reel to reel)